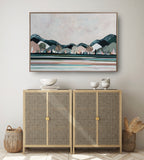 OTIORUM MONTEM #2 155cm x 105cm
$2,990.00
The OTIUM range is inspired by the ancient Roman concept of otium, which described a contemplative way of life in the countryside. Its opposite was negotium, which referred to negotiation, business, and the conditions of city life.
A one off, original artwork by Jessie Rigby.
155cm x 105cm 

Acrylic paint on canvas.

Inset framed in Australian Oak Timber.