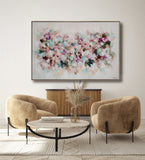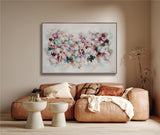 FLORE NEBULA CLARA 155cm x 105cm
$3,150.00
Flore Nebula Clara - 155cm x 105cm
A original, abstract artwork by Jessie Rigby.
'Flore' is a carefully curated collection of artworks by Jessie Rigby.  
This collection is inspired by the forms and colours of spring flowers. It explores different abstract responses to blossoms and blooms, and offers a calming, joyful aesthetic.  

Framed dimensions: 155cm x 105cm 

Acrylic paint on canvas.

Inset framed in Natural Timber.
All freight with Australia is free, and covered by insurance.

For International enquiries please email jessierigbyart@hotmail.com