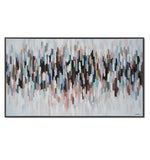 FLOS SERIES #39 - Open Edition Print on Canvas
$840.00
FLOS SERIES #39 - Open Edition Print on Canvas
Inspired by seasonal florals and the verdant foliage that accompanies the blooms.

This artwork is printed on premium Lustre Canvas (80% Polyester, 20% Cotton) using Aqueous Archival Pigment Inks. This ultra-durable, water resistant, canvas is specially manufactured to create outstanding blacks and deep, vibrant colours.
Prints are also available on high quality archival paper, see 'PAPER PRINTS'. For custom sizes, please contact us.
All prints come with signature in the lower right hand corner and a signed a certificate of authenticity.
IMPORTANT - HANDLE WITH CARE!
Your Limited Edition Jessie Rigby Print Has Been Handled And Packed With Great Care. Your Print Is Very Delicate And Susceptible To Marking So Please Ensure Cotton Gloves Are Worn When Removing From Packaging  
      MEDIUM 
Print Size: 130

cm x 73cm

Framed size: 133cm x 76cm (APPROX)
      LARGE
Image Size: 182

cm x 101cm

Framed size: 185

cm x 104cm

(APPROX)
This reproduction print is derived from an original Jessie Rigby painting. The original featured a combination of various mediums including acrylics, oil pastels and metallics on canvas.
The images on this website may vary slightly in colour from computer screen, to mobile device, to the print itself. Please allow for slight variation in colours. 
Please note that postage and handling times are approximately 3-5 weeks from date of order, within Australia, and may vary depending on receiver location. 
All Artworks are sent via courier, offering an insured and traceable service in either a protective photography tube or carton, dependant on artwork dimensions.
Prints are available on high quality archival paper upon request. Custom sizing may also be possible. Please contact us to enquire.
To ensure the longevity of your piece please ensure it is kept away from fluorescent light, direct sun and temperature extremities.